More Than Just Web Design | INTERNET ENGINEERING | APPLICATION | DESIGN
KissFM Mount Maunganui Rock Radio
The Kiss FM Site integrates with Sam brodacasting software and in addition to showing what's currently playing on air, allows a user to request tracks to be played.
Of course, this cannot be done without any sanity checks or someone would inevitably cue the same thrash metal track again and again, so the website detects that the track or artist has been played recently and politely declines to do so again.
Certain time slots are reserved for certain genres, and again the website prevents thrash from being cued first thing in the morning. It's probably party time somewhere in the world, but this is New Zealand.
---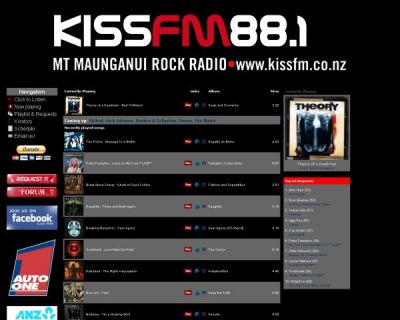 Radio on the web is the buzzword round broadcasting.
And Kiss-FM needed someone with technical talent, a strong skill set and a sense of humour to take on the big task of upgrading our radio web site. Some rock `n' roll music knowledge wouldn't hurt either!
JeRo's project was to build on the existing website at www.kissfm.co.nz and take it to the next level with managed interaction, full hyperlinks for advertisers and a cleaner layout to make it easier to navigate for listeners.
What had stumped others (even the manufacturers of the automation software), was no problem to JeRo. Careful research and off-site experimentation was needed to make the Kiss-FM step-up possible. What had proved to be a problem for 18 months was resolved in an hour!
Best of all was that the improvements to the site were done quickly, carefully and cost effectively with some improvements going well beyond what we had aimed for.
I really can't recommend JeRo highly enough. We're broadcasters not web experts, but JeRo understood our unique radio needs and the Company was able to deliver when we weren't even sure what the technical computer language might be for what we needed to have done!
JeRo has a customer for life and we'll be recommending JeRo to anyone who needs outstanding web design and technical help delivered in a friendly way.
Grateful thanks - Mt Maunganui radio is alive and well due to your great work!
Max Christoffersen
,
Proprietor
,
Kiss FM