More Than Just Web Design | INTERNET ENGINEERING | APPLICATION | DESIGN
Floorsafe NZ
We were contacted by Floorsafe NZ who had had a bad experience with a large Auckland based web development company. The site they were given frequently did not work and was difficult to use. Support took several days to respond and often did not fix the issues. After being recommended to us by a business colleague who we had recently migrated from the same Auckland firm, we rebuilt the site using concrete CMS and the Community Store ecommerce plugin, imported their products and added a blog capability. This was necessary because sadly the CMS used was proprietary and could not be backed up and moved elsewhere. The site is now reliable and we are able to respond to support requests in a much more timely manner. We were also able to offer some graphic design services for their product brochures and data sheets, and to recommend an Adwords partner who knew what they were doing.
---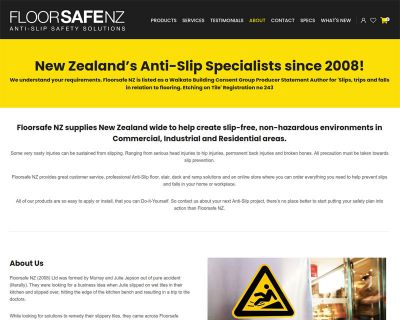 We had Jeremy from JeRo recommended to us by a friend with regards to fixing our e-commerce web site which we had been having constant problems with.
We explained to Jeremy the numerous, extensive problems we were having with our then host, designer and website. Jeremy discussed the options with us, explained how he worked and gave us a time line and budget he would work with.
We then decided to proceed with the changeover to JeRo, which has turned out to be the major leading factor in turning our business around back in to profit.
Jeremy was not only honest and a pleasure to work with, but was able to explain all the problems and how he would fix them in laymen's terms so we could understand what was going on .
One year down the track and we could not be happier. Not only do we have a fully functional, modern web site that we can edit ourselves, but Jeremy also recommended a team for us moving forward to work with for required artwork , Google AdWords and SEO.We have experienced a huge rise in our business turnover since signing with JeRo and would fully recommend him to any business wanting a professional website with hassle free, professional service.
Murray and Julie Jepson
,
Managing Directors
,
Floorsafe NZ (2008) Ltd